wickid
Curator: Carvin Museum of NY


Joined: 13 May 2005
Posts: 1117
Location: NY
| | |
| --- | --- |
| Posted: Sat Sep 15, 2007 1:52 pm | |
---
A month without Carvin is like a month ... with MF and Ebay.

I wasnt looking to get any of this stuff, but the GAS-urge was sparked somewhere along the way. Actually a post by Van on the Carvin BBS piqued my interest in the VOX AD50VT I picked up. (For pics, just see MF or any site that sells VOX.) So for August and early Sep, in addition to the VOX, I picked up these.

A Koa topped Ovation Celebrity 6 string acoustic/electric: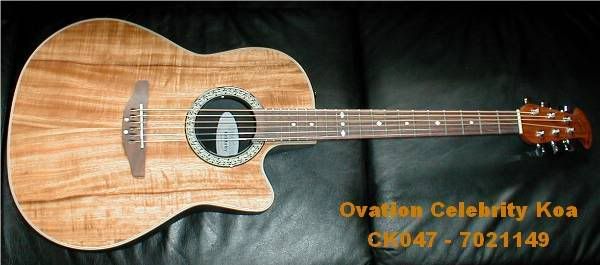 I have a 12 string celebrity - very bright and vibrant, and fun to jam on. We had an end of softball BBQ at my house back at the end of July, and 1 team member asked me about looking for a new guitar. I mentioned Carvin of course, but pointed him to MF for various other lower-end guitars, and did a search myself. And this one was interesting.
The Koa top definitely make it warmer, and the 12 strings are a bit tight to get used to. I prefer the snap of a spruce top, or a rosewood back/sides, spruce top Babicz acoustic I once tried out. But when plugged in, the added treble you typically get actually sounds pretty "acoustic-authentic". I also removed a bridge shim (once I found them UNDER the piezo), and adjusted the truss rod a bit for better playability.
Also, I was keeping my 12 string in the closet - no case, just a gig bag which I didnt even keep it in. So when I got this 6 string, I bought 2 more guitar wall hangers and put 'em up behind my 42" plasma TV. Playable wall-art.
(I figured they'd collect as much dust back there as in a closet.) The TV sometimes makes the 12 string ring out when it mutes between shows/commercials.


And this from ebay: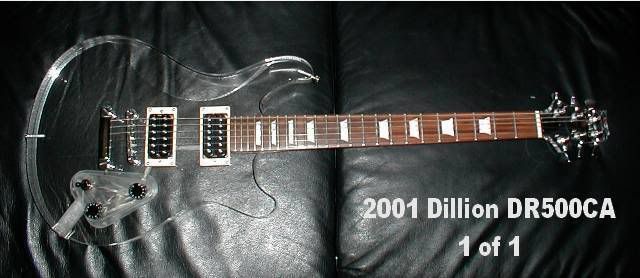 I already have an OLD clear Univox, but its pretty unplayable. The Univox had an basically unadjustable wood bridge (intonation adjusted by angling the bridge), and the neck wasnt very secure and would go out of tune easily. It had bolts, but the heads were smooth so you couldnt tighten them.

I saw this Dillion model on ebay some time ago, and thought I'd pick one up if I ever came across one again. I took a week off after Labor Day, and on a whim checked out ebay (since I was bored). I came across this auction with about 1.5 hrs left. I sent a msg to the seller, and got a reply very quickly. So I put in the bid with about 1/2 hr left, and got it. Payment sent and guitar received all within about a week!!
This one plays better, and has humbuckers (in the right place, the Univox had 2 singles right next to each other ???). Quite heavy - about 10lbs+ (on the bathroom scale). Tends to the bright side, but not unbearable - just the basic under-tone is ... snappy, with hi-end harmonix. I have the tone rolled down about 1/2 way. The strings are taking a while to stretch, so it needs a bit of re-tuning.
I've only had it like 2 days, and already have mucked with it. I didnt like the 3-way rotary knob p/up selector (not even a 5-way
), so I got a standard 3-way switch. I had to drill out the hole to 7/16". I managed to unhook the connection to ground that goes to the TOM stop-tail post. I think I got it soldered back (as best I can). I put the wire down the small channel drilled out for it (to the stop-tail post), filled the channel with solder-wire, and heated the solder so it melted. I couldnt figure out how else to fix it.
It has a bit of buzz, but I'm not sure if thats from not being grounded, or just a shielding issue (with a clear, almost see-thru control area, they didnt do any shielding). I'm not sure if it didnt have the buzz before, I dont recall. Also I tried hooking up an insulated wire right from the bridge into the control area, and it didnt seem to make a difference. Also, the buzz stops when I touch the tail piece or strings, which it couldnt do if it wasnt linked into the control area I dont think.
Also, not visible in the pics, and only visible on specific angles/lighting, there seem to be some scratches near the bottom front side. Again, not sure they werent already there, or if I did that myself when drilling out the hard acrylic/plastic body. Oh well, I made it my own. I almost put clear numbered knobs on it, but the black works better with the black switch.

Oh yeah - its a 24 fret 24 3/4" scale neck (measures the same from fret 1-24 as my 80's Carvins). So the strings feel a bit floppy, but I'm pretty sure they're 10s. Not too thin of a profile - probably has to be a bit beefy due to the weight. Its a unique novelty guitar for sure, but I'm diggin it.

Here's a before/after pic collection.

_________________
My Carvin gear time capsule...





(Any photobucket links are probably now broken. Grrrrrr!!!)